D-L-P contributor Jim Bickmann takes an in-depth look behind the scenes at the arcade-based game show, Starcade. During 1983, many laserdisc games appeared on Starcade. Some were there for player competition, others were there for the grand prize giveaway. The following article originally appeared in the December 1999 edition of GameRoom Magazine. Below the article are pictures and video clips of laserdisc games featured on Starcade, and also, don't miss the special email interview with one of the contestants!
This article originally appeared in the December 1999 edition of GameRoom Magazine.
STARCADE is a registered trademark of JM Production Company. Be sure to stop by their website for more Starcade memories!
---
For decades, TV game shows have entertained millions of viewers. You may remember shows based on supermarket knowledge or a pyramid worth $25,000, but are you familiar with the first and only show produced about arcade video games? For some, the game show Starcade remains a mystery. But for others, namely the millions of kids growing up in the '80s, the mere mention of it brings back fond memories. In fact, who doesn't remember getting up extra early to watch it, taping it on their Beta VCRs or discussing it at school?

Simply put, Starcade was immensely popular with its target audience of arcade video game players. Each episode showcased contestants competing on the newest and hottest video games. Games ranged from popular hits like Tron, Zaxxon, Sinistar, and Q*Bert to the not-so-well-known: Snake Pit, Mazer Balzer, Wacko, or Bega's Battle. The smaller contestant prizes were more than adequate. But it was the grand prize that had hopefuls practicing their patterns and joystick maneuvers... a full size game (or jukebox, or robot, or trip to Hawaiʻi)! At the end of each show, the finalist could walk away with such a prize if they could beat a particular score in a certain time frame. Right: Dragon's Lair shown as the Grand Prize.
The format was pretty straightforward. The first round began with a quiz question having to do with the present day arcade games. Although they were sometimes obscure and difficult to answer, a guess at one of the two possible choices gave you a 50/50 chance: (In Krull, you can break down the front wall of the hexagon when it's what color? A: Red B: Black). The contestant/team with the correct answer got to choose the first game to play from the five games featured that day. One of those five games was secretly revealed to the home audience as the "Mystery Game". A player picking this game was awarded a special prize such as a set of Pac-Man clocks. Players generally had 50 seconds to get the highest score possible. Now, this is definitely where preparation and technique came into play. An expert contestant knew that conventional gameplay was often not the best method: you simply didn't have the time to set up high-scoring situations, but less than a minute to maximize points, even if it meant 'breaking the rules'. The second part of this round included an additional quiz question and another turn at the games. The person or team with the highest score after the second game went on to the bonus "Name the Game" round. The object was to name at least 3 out of the 4 games shown on video screens. Prizes often included a cool bionic chair, metal detector, Activision game cartridges, or even an Aquarius home computer system by Mattel (Wow!). The next and final round was the last before determining who would qualify for a chance at the grand prize. Here, players only had 40 seconds to play a chosen game. Seemingly unimportant, the quiz questions often impacted the outcomes. Since the contestant who gave the correct answer got to choose the game, if he was behind, a high-scoring game like Major Havoc or Change Lanes would be a good pick. If he was ahead and wanted to maintain the lead, choosing the low-scoring Snake Pit or Roc'n Rope would practically guarantee a win. With two games to choose from, the final round only allowed 30 seconds of gameplay. Although short, on the right machine it was more than enough time to beat the score and win the grand prize.
Starcade is ripe with memorable sights and sounds. Its infectious theme music was written by husband and wife team Ed and Joanne Anderson who called themselves Mindseed. Coincidentally, the Andersons were also employees of Data East USA, Inc. whilst playing their musical talents on the off hours. The ever-present announcer, Kevin McMahan, kept the game-playing rules lively, and the lighthearted humor of host Geoff Edwards was perfectly suited for the scoring pressure that contestants were about to face. What "Starcaders" most likely remember were the special theme shows. Episodes like the Pac-Man family competition, the Star Wars or Cliff Hanger only shows, or the two separate Dragon's Lair tournaments were unforgettable. For here, competition was cutthroat: one slip of the joystick and you were history! In addition, the occasional episode that had teams comprised of a child and parent proved hilarious. Often it was the adult who lacked game play skills, making it utterly painful to watch. But every once in awhile, to the surprise of the audience, they proved the better players, raising the level of competition. The show also aired a special Starcade hotline between commercial breaks, featuring short interviews with industry leaders like Ivan Rothstein of Century or Stanley Jarocki of Bally/Midway talking about new games, reviews of upcoming home video game products, and the latest breaking news. It was a veritable video Entertainment Tonight for gamers.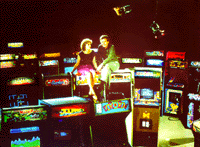 While all of this sounds easy, attaining this level of broadcast quality was hard-earned. Like many television series, Starcade traveled a long journey of creative development, host-tweaking, and general fine-tuning before the game we came to know and love settled into its successful formula. It was the brainchild of production team James Caruso and Mavis E. Arthur, who back in 1981 conceived the idea of merging a game show with arcade video games. Their innovative concept seemed like a sure-fire hit, considering the nation's obsession with video game fever. Left: Starcade creators, James Caruso and Mavis E. Arthur backstage with the games.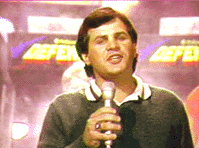 With their own investment, the duo produced quite an impressive pilot episode with 24 contestants(!) and games, all surrounded by an attractive hi-tech set. The pilot was taped at San Francisco's KRON-TV studio and hosted by Mike Eruzione (then captain of the Olympic hockey team) and featured a special celebrity player, actor Larry Wilcox (of CHiPs fame). Luckily, Caruso and Arthur were able to get Atari founder, Nolan Bushnell, to talk a local game distributor into getting several manufacturers to loan them games. Right: Pilot host Mike Eruzione
Since nothing like this had ever been attempted, technical problems were rampant. On the day of the shoot, it took over 10 hours of prep and a crew of 43 just to get the show ready to tape. On top of the delays, the inexperienced Eruzione was nervous, flubbing his lines, and Wilcox's agent wanted his TV star to leave. With about five hours of actual taping, enough footage was laid down to put one show together. (editing took another 12 hours). Starcade aired Sunday September 13, 1981 at 6PM, beating out all competition in its time slot! Unfortunately, even after being rebroadcast in several local markets, the show was not picked up. Undaunted, Caruso and Arthur went back to the drawing board confident that they were on to something.
With an improved format and scale model of a newly-designed set, they went to Los Angeles to pitch Starcade. One important meeting was with Phil Ross, the vice president of O & O (owned & operated) Programming for NBC. Surprised at their determination (chutzpah) Ross suggested they contact Alex Trebek to host a second pilot. If they could bring back a pilot with him in it, he'd help them. At the time, Trebek was "between jobs". Eager to get back to work, he accepted the $5,000 offer to host the new pilot. In just four short weeks production was underway, this time at Bridge Studios (formally the KPIX broadcast center) in San Francisco. NBC sent two S&P (standards and practices) overseers to insure the legalities of the show, as game show regulations had become strict due to the '50s quiz scandals. The officials were adamant that the names of the manufacturers and their games be hidden. This is clearly unrealistic and ludicrous. Furthermore, the original agreement with the companies was product exposure in return for the use of the games, so the issue was soon dropped.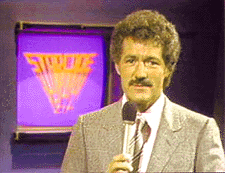 Things went rather smoothly on the set. While Trebek seemed a bit formal (his trademark demeanor), he was indeed having fun and worked hard to achieve a positive outcome. After all, if the series was picked up by the NBC station, Trebek was well-positioned as the series' host. In fact, the two creators and Trebek spent a full 24 hours together in an editing suite to create the 30 minute episode. The pilot was delivered to NBC, but without success. Ross liked the show, but none of his station managers did. Their comments ranged from "no audience participation" and "who wants to watch kids play games" to "video games are destructive to kids." Left: Second pilot host Alex Trebek.
With over $60,000 of their own money invested at this point and backing from the game companies, the pair were not about to give up. They finally ran into Jack Rhodes, whose company produced "The Cisco Kid". Rhodes told them that he might have something IF they were willing to put it on cable. Although cable was just getting started and with only 20% penetration, Caruso and Arthur decided to go ahead if it was with the right company. It turned out to be cable pioneer Ted Turner and his WTBS Superstation. A deal was struck between JM Productions and TBS (the syndication arm of Turner) to produce 13 shows. Subsequently, Parker Brothers came on board as the show's first sponsor. Quite a bit of work had to be done: a new set built, treatment and script written, finding a "fresh and new" host (Trebek was not renewed, Mark Richards an "unknown" was selected), auditioning potential contestants, and creating the massive rules and regulations manual encompassing every imaginable production detail.
Probably the two biggest technical stumbling blocks that had to be resolved were the combining of the video games' non-broadcast electronics with broadcast standards and accurate player scoring. With the electronics incompatibility issue, they decided to just point the camera at the video screen (we've all seen that familiar rolling and flicker effect whenever a computer monitor or other non-broadcast screen is videotaped). Accurate scoring was a more serious problem because without the precise ability to freeze the score, there was no contest and NO SHOW. After much experimenting and technical consulting, a camera was connected to a Radio Shack TRS-80 computer with a clock that froze the tape precisely at the set time. This make-shift contraption worked perfectly!
Starcade was broadcast on WTBS on Saturday mornings at 9AM Eastern. It immediately found its audience and eventually went as high as 7.8 rating points nationally. For cable TV, that kind of number was quite respectable for a show of this nature. On a trip to NATPE (the broadcast industry trade show), Caruso and Arthur had the opportunity to meet Ted Turner in person. Turner liked the show and asked if they could produce it daily. The original order of 13 shows jumped to 133! The show underwent more changes: Mark Richards (who hosted episodes #1 through 23) was replaced by veteran Geoff Edwards (Jackpot!, Shoot for the Stars) and a second prize round was dropped. Acquiring contestants was no longer a problem as over 5,000 hopefuls eventually tried out. Also, prize sponsors were beating down their doors!
Between 1981 and 1984, Starcade aired nationwide on WTBS, through local network affiliates and independent TV stations to over 80% of the country. Even though Starcade's ratings were good sponsor apathy, Turner's desire to continue trying new programming, and the overall decline in the video game market all contributed to the show's demise. In the end, over 300 lucky contestants competed, answering trivia questions, "Name the Game" bonus rounds, and actual head-to-head game play. With hard work, persistence, and commitment to their ideas, James Caruso and Mavis E. Arthur had obtained what they had sought. And for us video-crazed teens, their creation shared a part of our daily lives.
To this day, JM Productions has remained a successful San Francisco based company. Not only have they created the Finder's Keepers game show for Nickelodeon, they continue to push the limits and produce virtual reality multimedia projects while testing the television marketplace with new concepts.
Even though Starcade ceased production in 1984, the series lives on at the Starcade website. There, you can view memorable images and video clips. Best of all, you can now purchase copies of your favorite Starcade episodes. JM has made their catalog of shows available with copies being struck directly off their source tapes. It's time to throw out those old Beta cassettes! Visit their website for a list of available shows, current prices, and ordering information. Starcade lives!
---
PICTURE GALLERY
The following are a few pictures where laserdisc games were shown on Starcade.
| | | | |
| --- | --- | --- | --- |
| | | | |
| Astron Belt | Bega's Battle | Cliff Hanger | Cube Quest |
| | | | |
| | | | |
| Dragon's Lair | Dragon's Lair | Inter Stellar | M.A.C.H. 3 |
---
VIDEOS
The following are a few video clips where laserdisc games were shown on Starcade.
NOTE: These video files were encoded using the DIVX codec. If you are having problems viewing these video files, you need to update your video playback software. Visit www.divx.com and download DIVX 4.1.
Starcade Opening (1.6 MB) - That famous scene from back stage where the players would warm up for the show.
Astron Belt (1.7 MB) - This show featured Astron Belt, Bega's Battle, and Dragon's Lair.
Bega's Battle (2.2 MB) - This show featured Bega's Battle, M.A.C.H. 3, and Cube Quest.
Cliff Hanger (2.2 MB) - Scenes from the "All Cliff Hanger" show.
Cube Quest (2.5 MB) - Bega's Battle, M.A.C.H. 3, and Cube Quest.
Dragon's Lair Opening (3.5 MB) - Scenes from a special tournament show. This was the first time Dragon's Lair was shown on Starcade, and it was the only game played.
Dragon's Lair (1.2 MB) - Scenes from the "All Dragon's Lair" show.
Inter Stellar (1.5 MB) - This show featured an Inter Stellar Cockpit.
M.A.C.H. 3 (2.6 MB) - This show featured Astron Belt, Dragon's Lair, and M.A.C.H. 3.
---
BONUS SECTION
Aside from the two "All Dragon's Lair" shows on Starcade, there was an "All Cliff Hanger" show as well. Contestant Mark Walsh was one of the two people picked for this special show. Read Mark's story and get a contestant's point of view as to what went on during the initial interviews, screening process, and taping of the show. Did Mark beat out his opponent? Did he win his very own Cliff Hanger arcade game? Read on and find out!
-----Original Message-----
From: Mark Walsh
Sent: Thursday, September 20, 2001 2:57 PM
To: Jeff Kinder
Subject: RE: Starcade
A little about the show: As were many of us, I was a young teenage video game freak who used to watch Starcade on WTBS on days when I stayed home sick from school. Exciting show, and we would always think quietly to ourselves, "I could beat those people!" So after one episode where I saw they were seeking contestants in San Francisco, I sent them a postcard and was invited to try out.
Day 1: I took the BART train out to San Francisco to try out for the show. The tryout was a huge room full of people... we had to fill out a survey about ourselves, and then as our name was called we stood and gave a brief introduction. Basically, they were looking to weed out the people with no TV presence. At the end, they called out a list of names to come back the following day for the second round of tryouts.
Day 2: They lined us up and took a photo of each (like a mug shot, with our number in front), and then we filed into a room with a lot of folding chairs and a Pengo machine up front. This was our screen test; they called us up two at a time and did a mock show, where we were each interviewed by the host and played one round of Pengo. (I remember trying to quickly line up the star blocks to wow them with my bonus score, but wasn't successful in the 30 seconds.) At the end, we were told we would be notified by mail in a week or so as to how we did.
Sure enough, I got my letter: I hadn't been accepted for the show, but they thought there was potential, so I was invited back a month or so later for another second round. I returned to do the tryouts again (this time there was a new host who was a young guy, very charismatic, and the crew wanted him to host the show... but eventually, the more experienced Geoff Edwards got the gig.) This time, I was a lot less nervous, and I jumped around a lot and cheered for my "opponent" and basically exuded enough excitement that I was invited back to be on the show.
Before filming the show, there was a third "tryout" round. We came back one Saturday to a studio full of arcade games...some of which had not yet been released. We cycled around with a score sheet and on each game were given about 5 minutes of "practice play", and then a 30 second timed round. Our scores were duly noted for each game... this was part of the criteria used to match contestants' skill levels for the show. (We were warned not to "dog it"... that if we tested as being really unskilled and then came on the show as a wizard, they would stop the show.) In the afternoon, I was invited with a group of 4 to a special back room where we were filmed playing a brand new game called TX-1. It was a new driving game that used three monitors to provide more of a panoramic view. Atari had just licensed it from Namco in Japan, and we were one of their first test audiences.
So then we received a letter with the date of our show. That morning, I went out to San Francisco with my mom (I needed a guardian present), and I believe they were filming four shows. All contestants were sequestered in a little back room with some magazines, an Atari 2600, and a TV playing old Starcade episodes. One at a time, we were taken to makeup, and then they would come for two contestants to film the episode. The rest of us had to sit anxiously and wait; we weren't allowed to see the other shows, the studio, or anything that would give us an advantage. I recall my opponent tried to psyche me out with tales of his arcade prowess with a little bit of success... I was pretty freakin' nervous when they finally called us for the show.
Once we were called in, we were led in to the studio for a quick walkthrough before filming. I was pretty surprised to see six Cliff Hangers in the room... we were told it was a special episode and we were the best at Cliff Hanger (which makes no sense; I don't think I played it more than once or twice in testing and don't recall being any good at it.) We were introduced to the President of Stern Electronics. Then we were given the basic rundown of how the show was filmed, where to stand, where to look, to NEVER hit the mic while clapping our hands, to smile, etc. (I was pretty bad at the smile instructions... I was really nervous... freaked actually, and Marie the contestant coordinator had to keep telling me to smile.)
Finally, it was time to film. They led us to the outside room full of games to film the intro, and I was placed in front of a Sinistar game. I think I may have missed the first cue to run into the studio because I was having a really good game of Sinistar! Then we ran into the studio, did our introductions, and started the game.
As this was a special Cliff Hanger episode, they had brought in "Cliff Hanger Expert", Marcelo, to play through to the last scenes. Though I don't know if he was actually a Cliff Hanger expert. He had previously been a contestant, winning on the Dragon's Lair episode, but I think the real reason he came back is because he was dating one of the crew. He didn't actually play the game through during the show, but stood at one of the machines pretending to play whenever we were competing.
So then the game. After botching the first question, I answered the second one correctly, and because after two rounds my score was slightly higher, I got to play the "name the game" round. As I correctly named all four games, I won a cheap Lasonic cassette player and a cheap "Miss USA collection" necklace. I then (fortunately) played a perfect third round, pretty much locking me in to play the final round for the machine. (And it was pretty harsh when Geoff Edwards basically told my competitor, "I don't know what to tell you, maybe you should just quit.") For winning the game, my prize was an RB5X home robot. (I ended up selling the robot for $300 a couple years later. Funny thing, the robot company went bankrupt the same week my robot arrived and must have not told the Starcade folks I'd gotten one, because over a year later I received this huge oak rolltop desk unit as an alternate prize.)
So on to the bonus round. 30 seconds. 45,000 points. Having by now played the start of the game three times, I was pretty confident with the moves. Hit my 45,000 with 3 seconds to spare. Jump excitedly (and smile). Mom, Dad, and brother run out to congratulate. Yay me!
So I signed a bunch of papers for my prizes, and about a month later, my dad borrowed a pickup truck, and we drove out to San Francisco and got my game. (They would have delivered it, but I didn't want to wait any longer!)
Hence, I spent my teen years with a Cliff Hanger machine in my bedroom. Unfortunately, my machine had a couple of glitches... there was some sort of logic flaw where if you died in the first scene or two, the machine would hang. I exchanged my motherboard and disc at the Bally shop in San Francisco, but very sadly the new disc had a big crack on one side. At the time, it played fine, but over time it deteriorated, and the disc now no longer plays. :( Needless to say, I became a Cliff Hanger expert. (Seeing as how there is no variation to the pattern, it's not that hard.) There was a Cliff Hanger at the local Chuck E. Cheese... just for the hell of it, I once played it through blindfolded and using my feet.
In 1986, I went off to college, and soon after, my parents moved the machine to the garage, which is where it sits now, probably in almost mint condition, with other storage stuff piled around it. I almost sold the machine in '89 or so but didn't get any real offers. Now I sit and watch as Cliff discs go for more and more at auction, knowing I need to get one of these as I ultimately want to get the machine running again. It has to be one of the ones in better condition out there... just got light home use. I know there are a few scratches at the bottom of the cabinet from moving, but I imagine that under the dust, the machine is a gem!
Thanks for the reminisce!
Take care!
Marco
---
And here he is, Mark Walsh in action.
Mark in Round 2 (2.2 MB) - Mark plays a perfect game and pretty much locks in the victory.
Mark in the Final Round (2.5 MB) - Mark playing for the grand prize.
NOTE: These video files were encoded using the DIVX codec. If you are having problems viewing these video files, you need to update your video playback software. Visit www.divx.com and download DIVX 4.1.
STARCADE is a registered trademark of JM Production Company. Be sure to stop by their website for more Starcade memories!
If anyone has any other interesting Starcade information, please contact Jeff Kinder.
---
QUESTIONS? COMMENTS? PROBLEMS?
Contact Us
HOME | LASER GAMES | LASER COMMUNITY | TECH CENTER

This website was created by Jeff Kinder & Dave Hallock, 1997 - 2023.
All trademarks and copyrighted materials are property of their respective owners.