Written by Jim Bickmann - December 1, 1998
The year was 1983 and it was obvious that the video game industry was sorely in need of something to revive its sagging revenues. Analysts estimated that one quarter to one half of all arcades would close by the end of the year. Major companies such as Atari and Bally were showing losses in the hundreds of millions and layoffs became commonplace. Although grim, all was not lost. Out of the blue came a new, exciting and revolutionary game called Dragon's Lair. Though not the first utilization of interactive laserdisc technology, this game used existing industrial applications on a purely commercial level. To say this game created a stir when it was first previewed in early '83 would be an understatement. Unveiled on-site at arcades (lucky enough to acquire one) in June '83, major newspapers and national magazines quickly covered the story. Could Dirk the Daring save not only Princess Daphne, but the entire video game industry? Well...yes, and no.
Dragon's Lair was a huge hit. People really didn't know what to make of it. Was it a game, a movie or both? It was certainly new and innovative but cost a whopping 50 cents to play! A major concern was whether or not players would mind paying what was considered a princely sum.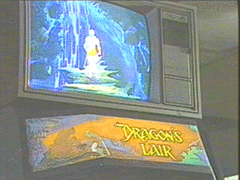 To prepare for this, game designers encoded several "pay as you play" options on the disc in order to give operators some pricing flexibility. The Dragon's Lair $4300 price tag (industry-wide average) was hefty and operators had to recoup these expenses somewhere down the line. However, after a few hours on location, a prototype had crowds 30 deep with quarters lining the screen; the 50 cent issue became a moot point. The initial scarcity of the game, coupled with the onslaught of players who wanted to try "valiantly" to save the "fair Princess Daphne" saw many arcade owners install an additional monitor on top of the cabinet so on-lookers would watch. One noteworthy story was of the Berkeley, California owner who installed a red carpet with velvet ropes and bleachers to help promote his game. At the height of the frenzy, it was reported that one machine in a good location could easily bring in $1400/week. On average, that was close to ten times what a conventional machine was bringing in!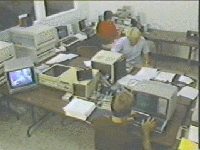 The game was the creative concept of Rick Dyer, a computer programmer who had the idea of incorporating a game with motion picture quality images that allowed the player to essentially control their own movie. Cinematronics was approached and decided to come on board to manufacture the game even though the firm itself was going through financial reorganization. The animation was to be done by Don Bluth Studios. These three business entities partnered as Starcom (later changed to Magicom due to a pre-existing company with the same name). This partnership seemed unstoppable.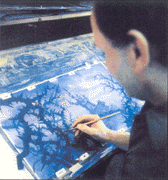 Bluth had already established himself as a pioneer in animation with a major feature film under his belt, The Secret of NIMH. His studio, staffed by fellow ex-Disney animators, was known for creating the highest quality animation in their field. Many comment that this production quality was a major asset to the success and lasting magic of Dragon's Lair. At a cost of over a million dollars, the animation was created under complete secrecy - finished in May - with the game debuting only one month later.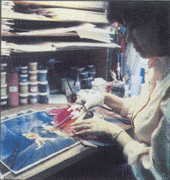 The animation was stunning...produced in "full" animation, each second of screen time required up to 24 hand-painted cels (clear sheets of acetate), a number much higher than the industry standard. No production expense was spared: beautiful watercolor/gouache backgrounds were painted, along with extensive special effects animation (such as water effects, glowing fire and dramatic lighting), even hand-inking (i.e. the lines of Daphne's blonde hair and black eye lashes had to be painted frame by frame). Some of this attention to detail can get lost while actually playing the game, but what's always evident is a certain visual lushness.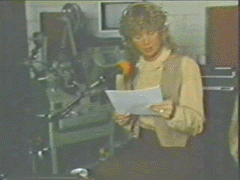 Oddly, one area of production that was curtailed was voice talent. Because there was so little dialogue (and to save on professional actor fees), staff members volunteered to supply the voices: Michael Rye* was the attract mode announcer, Vera Lanpher, head of clean-up animation was Daphne, and sound engineer Dan Molina portrayed Dirk. The musical score was created by Chris Stone (a talented composer still very active in film and television scoring), and although it may seem that the sound was recorded in stereo, it wasn't. Voice and sound effects were recorded on separate channels and bounced back and forth to simulate stereo.
*NOTE: Michael Rye was a hired professional actor, not Bluth staff.
The object of Dragon's Lair was for you, Dirk the Daring, to rescue Princess Daphne while facing the perils and monsters found in a magical castle. Much of the fun came from encountering the many creatures and creative death scenes. Unforgettable characters included the Giddy Goons (purple dagger-wielding demons), the Black Knights (one with an electrifying sword, the other on horseback), and the Smithee (a "stone" statue with an ax that comes to life). Game play was non-stop: you had to react quickly and decisively.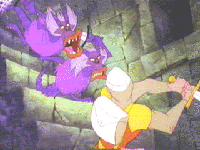 After completing about 27 different sequences, Dirk finally reached the dragon's lair. Upon hearing the breathy details by Daphne on how to defeat Singe, Dirk had to find the magic sword, slay the dragon and get the key to break her out of her prison. This was not an easy feat! Combined with the excitement of actually getting to this stage, while trying to hit all the marks on cue and dealing with the pressure of the huge crowd of kids surrounding you (whew!)...this was a lot of pressure for a 13 year old. Because of this, most people can still remember the excitement of seeing someone save the princess for the first time.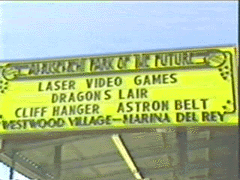 On a consumer level, the Lair frenzy would create a whole line of products, including lunch boxes, clothing, a fan club and even a TV show on ABC. For the entire video game industry, the success of this new technology sent all manufacturers scrambling to bring their own laser games to market. Sega was finally bringing out Astron Belt to the American market (after much onsite testing in Japan) and Data East its Bega's Battle. Laser player manufacturers like Philips, Hitachi, and Pioneer simply could not produce enough equipment to fill this avalanche of orders. All manufacturers were seriously affected: Cinematronics had about half of their game shipments back ordered. With initial orders at over 10,000 units, only 5,300 were actually shipped between June and September.
All was not perfect with the new technology. Some players complained that laser games weren't challenging enough, but just based on memorization. Others said they were too difficult. Operators didn't like the initial high cost and unreliability of the earlier laser models: units were notorious for overheating and slipping out of sync. Industry critics believed that laser games would only be a passing fad.
Variety in the application of the laser image created games that used computer graphic overlays such as Mylstar's M.A.C.H. 3 and Williams' Star Rider. This, in part, solved the memorization factor. Players could enjoy stunning motion picture quality images in the background, while playing a more interactive style game in the foreground.
Manufacturers also held tech seminars for operators to learn simple repair and maintenance techniques for the laser players. Even with this support (and other great games like Magicom's Space Ace, Stern's Cliff Hanger, and Atari's Firefox), the boom and resurgence would end within a year.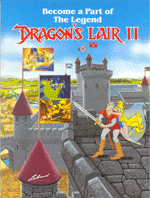 The "laser age" was the game industry's last chance. Even the excitement of such new technology and a ground-breaking game like Dragon's Lair couldn't save it. Other Lair projects such as Dragon's Lair II: Time Warp (later finished and released by Leland in '91) and the feature film "The Legend" were halted. Investors were no longer interested in taking chances on an industry about to go belly-up...the laser age was finished.
NOTE: The remainder of this article includes time-sensitive information written in 1998. The following valuations and availabilities are not current.
Although many Dragon's Lair units were converted or destroyed, they're still available. Prices range anywhere from $400 to $1800 depending on condition, location and whether it's from a collector or retail gameroom dealer. The later LD-V1000 Pioneer player is recommended, as is keeping the game physically stable.
What makes collecting Dragon's Lair memorabilia so fun and challenging is that you can approach it from many different angles: promo materials: game flyer ($20-$30), posters ($10-$50), animation "flip books" ($5-$15), and consumer items like a lunch box w/ thermos ($35-$50), board games ($20), etc. Original artwork is available, although difficult to find as most galleries aren't familiar with this particular Don Bluth "film". Pencil drawings sell anywhere from $20-$75, with original production cels from $75-$400+ and rare background paintings for $750+.
To this day the game remains quite popular and has been available on every major home game system. With it, Dragon's Lair still carries an unforgettable magic that's hard to describe.